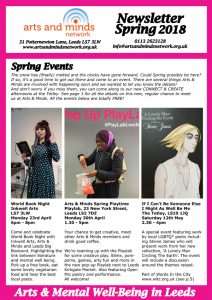 We produce a regular newsletter, packed with information on creative things you can get involved with in Leeds. We also feature members' poetry and artwork.
Members receive each issue via email as soon as it is published.
We print 400 hard copies of the Newsletter – let us know if there's somewhere you think we should place it.
Contributions from members are very welcome. We rely on our members to keep us informed of news around mental health and creativity. Please send  your artwork, poetry, reviews, news, etc to: