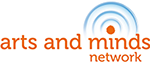 Due to the current lockdown we are meeting online for the monthly Connect & Create session instead of at the Tetley. For information on how to join the online sessions please email [email protected]. Keep checking this page for further updates.
Connect & Create meets on the first Monday afternoon of every month via Zoom. The aim is to get together with other like-minded, creative people. We want you to share ideas, be artistic, have a chat with other members and find out about all the great things going on in Leeds.
Every month we have a Creative Space where a different Arts & Minds member will try out a creative workshop. No skills are necessary, just have a go. No specialist materials are required for sessions generally – we try to make use of the things people will have at home.
We also have the Arts & Minds team on hand at the group to answer your questions. It's ideal for people who've never been to an Arts & Minds session before – you can find out all about what we do. We particularly welcome people who've had experience of mental health issues.
Join us on the first Monday of every month from 1pm to 2.30pm online. If you want to attend please email [email protected] to book on and we will send you out the Zoom link and details.
You can contact Arts & Minds in the following ways:
Phone: 0113 262 128
Email: [email protected]
Post/in person: Arts & Minds c/o 31 Potternewton Lane, Leeds LS7 3LW
Please follow and share our social media networks. All Arts & Minds workers are part time so please be patient and we will get back to you when we can.
Joining the Arts & Minds Network is free! Once signed up you will receive a membership card in the post and we will add you to our mailing list to receive our weekly eBulletins and our quarterly newsletter. We signpost members to creative opportunities that promote positive mental health and we work with local arts suppliers and other businesses who give discounts to Arts & Minds members. Click here and fill in the form to join…