SHOW YOUR ARTWORK WITH ARTS & MINDS!
SUBMISSIONS to St Johns MAY 28 – 31
Don't miss out on this chance to show your work in St Johns, a busy shopping centre in the heart of Leeds. We're looking for original 2D or 3D work that you have not exhibited with us before. All Arts & Minds members are welcome to show their work. If you're not a member you can join for free online https://artsandmindsnetwork.org.uk/join-us/ The network is open to adults in Leeds who want to see the growth of creativity and mental health, including service users, carers, mental health workers, artists, arts organisations and mental health organisations, anyone with an interest in the issues! Arts & Minds promotes artwork by people who have a link to mental health, however your work does not need to have a mental health theme.
Here's some useful info you need to know. Please read it carefully as if you don't follow these guidelines we may not be able to include your work.
When and where do I bring my work?
We are taking over an empty shop unit in St Johns shopping centre. It's Unit 3 on the ground floor at the bottom of the escalators, Merrion Street, LS2 8LQ. Please bring your work here during these times:
Tuesday                     May 28th                   2 pm – 6 pm
Wednesday              May 29th                   11 am – 4 pm
Friday                         May 31st                   9 am – 1 pm
If you can't deliver your artwork at any of these times, we may be able to consider alternatives in exceptional circumstances. However you must contact us BEFORE May 31 to discuss this. Any requests made after this date will be refused.
How many pieces can I submit?
Your 2D and 3D work needs to fit within a 1 metre square.
Maximum 3 pieces of 2D and 3 pieces of 3D work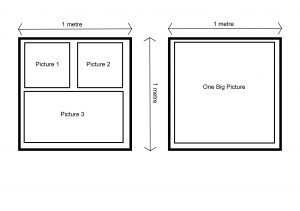 What kind of 2 D work?
Canvases (no need to frame) or framed artwork
All media welcome – prints, paintings, collage, embroidery, and photographs etc
If you are submitting prints or photographs please specify number available (eg. 1/100)
What kind of 3 D work?
All media welcome – ceramics, sculptures, textiles etc
We have space for a limited number of freestanding sculptures bigger than 1 m square. Please email a photograph of your work PRIOR to May 28th. We will need to organise special delivery arrangements with you as large or heavy work has to be delivered to the loading bay of St Johns by prior arrangement.
What fixtures should I put on the work?
To keep your work secure and safe from theft or damage, you must use mirror plates screwed into the frame or canvas frame of 2D work. Mirror plates can be purchased at Wilkinsons, hardware shops, and Fred Aldous. We will not accept work that is not prepared in this way.
3D work will be free standing on tables, plinths, and cabinets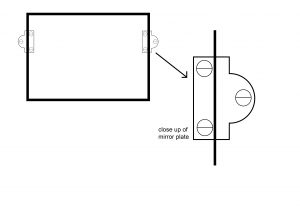 Anything else I need to do?
Ensure that you tie one label securely to the mirror plate with sewing thread.
Wrap your work in bubble wrap or similar protective packaging
Stick another label on the outside of your work on the protective packaging
Do you take commission?
There is no charge to enter work, but if it is sold, we will take 20% commission from the price you put on your work.
How are sales managed?
3D work – will be taken on the day when customers wish to buy work.
2D work – customers need to leave a 20% deposit. Artwork can be collected from the day the show is taken down from St Johns on June 24, 25th, or 27th.
We will contact you if a customer leaves a deposit for your work or any sales are made
Fabrication are kindly processing payments for Arts & Minds and need a maximum of 30 days from the completion of the show to balance accounts. We will arrange a day when you can pick up cash payments from Arts & Minds when Fabrication have done this.
When do I pick up my work?
All entries MUST be collected from St Johns on Monday June 24 between 11 am – 5 pm.
We do not have space to store artwork, and will give up the unit soon after the show comes down. If you can't collect on this date please contact us NOW.
How we select work
There is no judging panel and no theme, and we welcome work by professional artists as well as people who have never exhibited before. All are welcome. We have never needed to censor work in 13 years of running this annual exhibition, but we reserve the right not to display work which the curating team regards as offensive.
How do you curate the show?
We will have a team of Arts & Minds members curating the show, led by a professional curator. They aim to present the work in a professional manner that shows all work in its best light within our budgetary constraints. The curating team's decision on hanging format is final.
My artwork doesn't fit into any of the categories above
Contact us now to discuss if there is a way to show your work. Don't wait til the end of May. Do it now!
Is there a launch event?
This will be on Friday June 14th from 5 pm – 6.30. All are welcome including your family and friends. However the exhibition will be open from Monday June 10.
How do you invigilate the show?
The show will be open from June 10 – 23, 11 am – 5 pm daily. We'd love you to get involved with helping curate, hang or invigilate the show. No experience is needed, and you will be well supported to do these jobs. It's also a great way to get to know other exhibitors in the show. Please speak to us about these opportunities when you submit your work and bring your diary along so you don't forget what you've offered!
AND FINALLY!
Please sign the disclaimer form available on the submission days to show that you have followed these guidelines and accept our terms and conditions.
We look forward to receiving your entries. If you need any advice or further information please contact Jane on 0113 262 3128 or email [email protected]