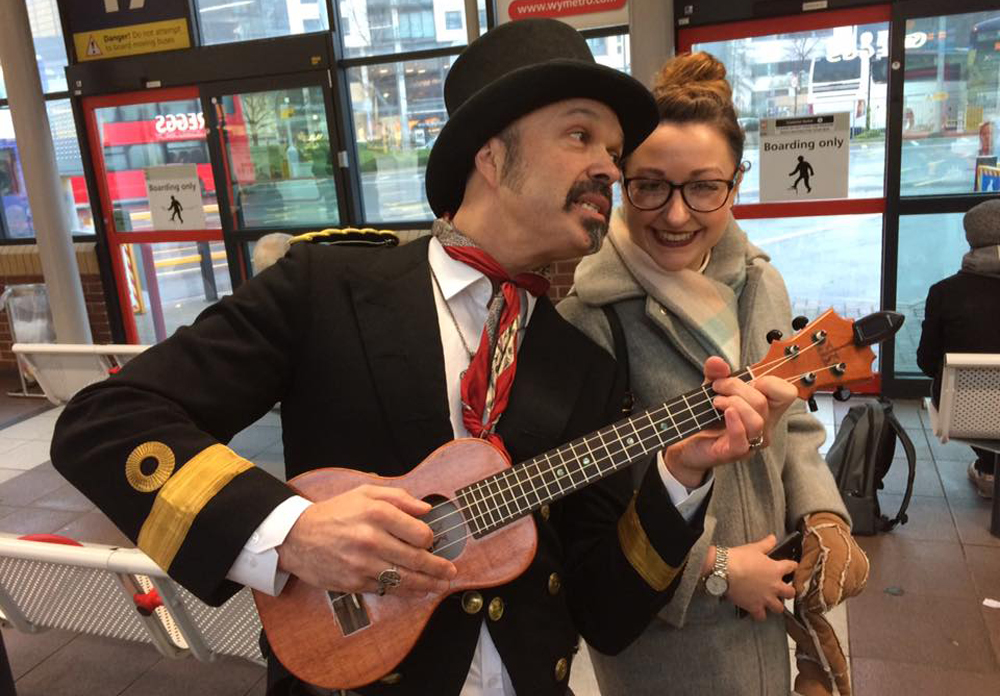 By
Tom Bailey
January is almost over but here at Arts & Minds we've been trying to fight the Winter Blues…
We linked up with the redoubtable Helen Hunter Thompson of CGL to support her #30daysofpositivity idea. A brilliant way to brighten the dark days. Find out more here.
One of the many dark days in January was known as "Blue Monday". So we got a musician to cheer up passengers on the bus. Here's what we put on our leaflet:
"Today, 16 January 2017, is commonly known as Blue Monday and is often described as "the most depressing day of the year." For many people, this is when "reality" kicks in after Christmas, the days feel shorter, darker and it can seem like a long time until the lighter summer days. To spread some cheer on this dark day, First Bus Leeds have teamed up with Leeds & York Partnerships Foundation NHS Trust to provide a musical accompaniment to your journey.
However, If you're living with depression the date is irrelevant. Depression affects people every day, not just on "Blue Monday". People with depression aren't just "a bit down" because of the weather or because they're skint after Christmas. It's likely that you know someone with a mental health issue. Or you may be affected yourself. Use 'Blue Monday' as an excuse to start a conversation about mental health!"
Our musician ("the Captain") was amazing. Have a look on the BBC Leeds Facebook page.
And read all about it on the Yorkshire Post site.
However, neither of these articles really encapsulate how joyful the experience was. I was accompanying the Captain and saw the reaction up close. We hopped on and off buses, entertained people at bus stops and wandered the streets in search of miserable commuters. The 56 from Headingley was packed
with
students trying to record the experience on their phones. Whilst waiting for the 49, the Captain sang 'Lean On Me', accompanied by members of the bus queue. Just outside the LGI he serenaded an unborn child whose Mother had just been for a scan. And the Captain was unfazed by any request, even attempting an improvised Elvis/ Grime improvised mash-up. With mixed results. But everywhere we went, there were smiles. Some grumpy faces initially, but the Captain usually won them over. One commuter confided, "you don't see that sort of thing in Leeds do you? In London, maybe, but not in Leeds."
So that was Blue Monday.
On Brown Thursday (which is even less of a thing than Blue Monday because I just made it up) we joined Helen and others at the Feel Good Fest. The Corn Exchange was packed with brilliant people, offering ways to help feel better. Loads of treatments (massages, hypnotherapy, reflexology), workshops (from us and Dean), music, yoga, drama, the Human Library…. And it was great. A good turnout of lovely people. Thank Helen for organising it and giving everybody a chance to try something to make them feel a little better on a dark night.
You can see pictures from the event here.
So, some light has been shone in the darkness. Let's hope we do something similar next January.